National Interest
Jammu and Kashmir: BJP persons arrived to hoist the tricolor at Lal Chowk, many arrested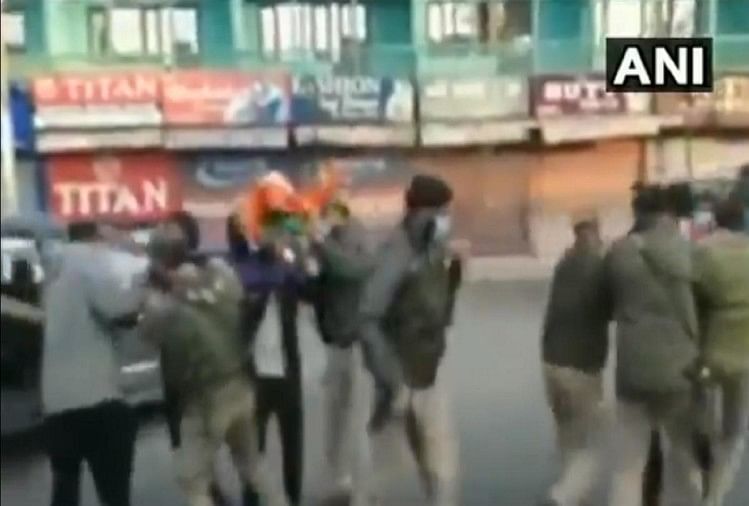 On Monday, BJP workers tried to hoist the tricolor on Lalchowk in Srinagar, but the police stopped them. Many BJP workers were also arrested during this period.
Let me tell you that on Saturday, some protesters hoisted the tricolor and shouted slogans at the PDP office to protest against the insult of the tricolor by PDP President Mehbooba Mufti.
During this time, protesters were also seen in a little fight with PDP leaders present in the office.
#WATCH | Jammu and Kashmir: Police detain Bharatiya Janata Party (BJP) workers who were allegedly trying to hoist national flag at clock tower in Lal Chowk, Srinagar. pic.twitter.com/j8rUFH0kco

— ANI (@ANI) October 26, 2020
PDP spokesperson and former MLC Firdos Tak tweeted that the office was attacked. He was manhandled along with other PDP leaders Parvez Wafa. Tak said some mischievous elements are trying to convert political ideology into violence.
He said that PDP is not insulting the national flag. The party is firm in its ideology only. Article 370 is the agenda associated with the party's ideology. The party has not registered a case with the police, but the police have the responsibility of protecting the party leaders.
What did Mehbooba Mufti say about this incident?
Former Chief Minister and PDP chief Mehbooba Mufti, who was under house arrest for fourteen months, has started giving rise to separatism in the Kashmir valley as soon as it is released. Mehbooba Mufti has also clarified her separatist thinking on Friday following the statement of senior National Conference leader and former CM Farooq Abdullah to restore 370 with the help of China. She said in the press conference that she is not comfortable with today's India.
Mehbooba said, minorities, Dalits, etc. are not safe in today's India. This is a political battle that Dr. Farooq, Omar, or Sajjad Lone cannot fight alone and cannot fight together. We need people. Mehbooba said, to date the blood of the people here has been shed and now it is the turn of the leaders like us to give blood. We do not want violence but they want violence.
Mehbooba said that even after the removal of Article 370, no effort was left in enforcing such laws here so that people in Jammu and Kashmir come down on violence. Be it Urdu language, Domicile law, or other law. During the time I was in jail, I used to think that these people (Central Government) abolished the PDP, but when I came out and talked to the workers, it became clear that every worker is with Mufti Saheb's agenda.